?-2010
2010-present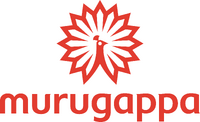 On September 8, 2010, Murugrappa unveiled a new identity. The peacock was modernized and was turned from blue to red.[1]
"This contemporary rendition of the Murugappa Peacock is a sign of the Group's global outlook and the dynamic targets we have set out to reach. Red as a colour embodies vigour, power, passion, drive, energy and is renowned for its excellent visibility. The clean lines and the unique lower case style in which 'murugappa' is written help connect with audiences through simplicity and elegance." - A Vellayan, Executive Chairman, Murugappa Group
Ad blocker interference detected!
Wikia is a free-to-use site that makes money from advertising. We have a modified experience for viewers using ad blockers

Wikia is not accessible if you've made further modifications. Remove the custom ad blocker rule(s) and the page will load as expected.