19??–2002
2002-2005
In March 2002, Munksjö was bought by the Irish Jefferson Smurfit Group. As a result, Smurfit became part of the company's name.
2005–2010

In 2004, Munksjö was split up. Hygiene tissue was sold to SCA, Jefferson Smurfit kept packaging, and what remained was sold to investment fund EQT.[1]
In 2005, the new Munksjö group was formed and they reintroduced their old name and M symbol, but with a new visual profile.
2010–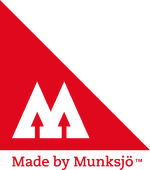 Gearing up for its upcoming listing of the Stockholm stock exchange, Munksjö launched a new visual profile and website in October 2010. The M symbol was kept, but was put in triangle which symbolises a folded corner on a paper, with the tagline "Made by Munksjö" written underneath.