2005-2007
2007-present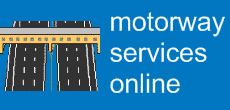 In 2007 the site rebranded itself as Motorway Services Online[1], the main change being the colour however it's still officially the same site. In 2009 the site's type changed some more. The way it ran was updated to a Wiki however it still retains it's original look (by the time it went live) using a heavily modified skin.[2]
References
Ad blocker interference detected!
Wikia is a free-to-use site that makes money from advertising. We have a modified experience for viewers using ad blockers

Wikia is not accessible if you've made further modifications. Remove the custom ad blocker rule(s) and the page will load as expected.