1993–1996
Mondex was originally launched in the United Kingdom in December 1993.
1996–2016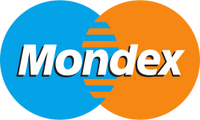 In 1996, Mondex was sold to Mastercard International, and as a result, it introduced a logo based on Mastercard's recent 1996 rebrand, instead using blue and orange circles.
2016-present
On 14 July 2016, Mondex adopted Mastercard's rebranded logo design that it had introduced on the same day.