1991-2003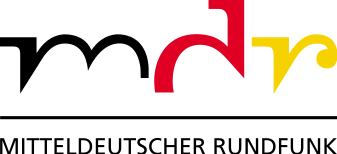 2003-2016
A new corporate look for MDR was launched in October 2003. It was created by the Berlin-based agency Melle Pufe. [1][2] The new logo uses the three letters from the old logo, but they are now coloured white and put in a blue rectangle. Logos for the different entities and services of MDR are created by adding another coloured rectangle containing the service name to the right. The two rectangles are separated by another smaller rectangle.
2017-present
The new logo was debuted on January 1st, 2017.
First debuted on MDR Schlagerwelt in September 2016, on MDR Kultur and MDR Aktuell in October 2016. MDR Klassik and MDR Fernsehen got the new logo in 2017.
From 1st of May, MDR Sachsen & MDR Sachsen-Anhalt will get the 2017 MDR logo.