1940-1968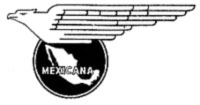 1968-1990
1990-2008

2008-2010
Mexicana filed for Commercial concurs (Mexican law equivalent to US Chapter 11) and US Chapter 15 on August 3, 2010 in both the U.S. and Mexico, following labor union disputes; a debt of US$125 million was reported. Subsequently, the airline scaled back its operations, suspending ticket sales and announcing termination of selected routes. In early August 2010, the airline offered pilots and flight attendants a stake in the business in exchange for new labor terms. On August 24, a Mexican consortium called Tenedora K announced that it had bought 95% of Nuevo Grupo Aeronáutico; pilots would hold the other 5%.
After 89 years of service, Mexicana suspended all operations at noon CDT on August 28, 2010. Aeroméxico offered discounted tickets to passengers stranded by Mexicana's suspension of operations, while American Airlines and American Eagle Airlines also offered assistance, providing help to passengers between the 48 contiguous U.S. states and Mexico.
Ad blocker interference detected!
Wikia is a free-to-use site that makes money from advertising. We have a modified experience for viewers using ad blockers

Wikia is not accessible if you've made further modifications. Remove the custom ad blocker rule(s) and the page will load as expected.