Griffin Productions
1964-1975
Merv Griffin Productions
1975–1983
1983-1984
Merv Grifin Enterprises
1984-1986
1986-1987
1987-1988
1988-1991
1991-1992
1992-1993
1993-1994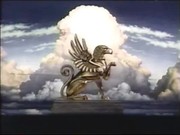 This logo uses the same cloud background as Columbia Pictures Television and TriStar Television, but the Griffin replaces the CPT torch lady and the TriStar Pegasus. The version seen above, which has no text below the logo, was seen only as part of a Video Daily Double question aired on Jeopardy! on December 23, 1993.
Video
Ad blocker interference detected!
Wikia is a free-to-use site that makes money from advertising. We have a modified experience for viewers using ad blockers

Wikia is not accessible if you've made further modifications. Remove the custom ad blocker rule(s) and the page will load as expected.