This article or section is about an upcoming logo or rebrand.
The information here may change.
2018-present (pre-launch)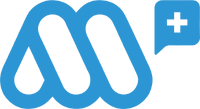 Mega Plus will be the secondary channel of Mega. Oficially announced in October 2018 [1], it is set to launch in January 2019.
This logo was presented in the Mega website on October 2018[2] . The social media pages of the channel currently use the logo of the main channel as a placeholder.
References