McDonald's
1993–2006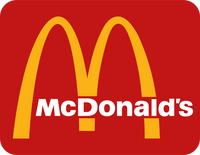 McDonald's first restaurant opened in Reykjavík, Iceland in 1993.
2006–2009
As part of the first restaurant redesign for decades, called 'Forever Young', the logo was redesigned. All of Iceland's restaurant branch is closed due to the collapse of the Icelandic krona, lack of sales and the prohibition of importing foreign food. Later it would be in case to launch another restaurant branch.
Metro
2009-present
McDonald's Iceland rebranded as Metro. The logo is a curve shaped like an burger.