196?-2004

The logo for Marabou was introduced at the end of the 1960s. It was created by Sigvard Bernadotte.
2004-2015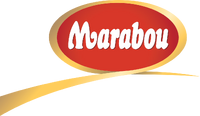 In an effort to bring together the design of Marabou and its Norwegian sister brand Freia, the logos were put on top of a red plate surrounded by a golden ribbon. The redesign was performed by Ogilvy Design and Landor Associates in London.
"Landor recognized that the original Marabou wave was a strong visual asset and incorporated it into the new identities to visually unite the two brands. An additional loop was added around the word marks to bring richness and quality to the identities and support the brand values. Other improvements include consistent use of the brand mark across all points of touch and the use of product imagery. All together, these elements result in a memorable brand image and create a close visual association between the Freia and Marabou brands." - Landor
2015-present
Ad blocker interference detected!
Wikia is a free-to-use site that makes money from advertising. We have a modified experience for viewers using ad blockers

Wikia is not accessible if you've made further modifications. Remove the custom ad blocker rule(s) and the page will load as expected.