1995-2000
The company was known as either Log-In Data Corp. or X-Stop.
2000-2008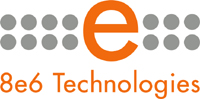 The company changed its name to 8e6 Technologies in 2000.
2008-2009

In November 2008, 8e6 Technologies and Marshal Software merged to form Marshal8e6.
2009-2012
As part of a rebranding campaign, Marshal8e6 changed its name to M86 Security in September 2009. The following November, M86 Security acquired Finjan. On March 6 2012 it was announced that Trustwave would acquire M86 Security.