1989-1991 (as Public Attention)
Used on their first album, The Death of a Dictionary (1989).
1991-1994

Used on their second album, Mental Jewerly (1991).
1994-1997/2001-2003/2005-Present

First used on their third album, Throwing Copper (1994), then on their fifth album, V (2001) and later on their seventh album, Songs From Black Mountain (2005).
1997-1999

Used on their fourth album, Secret Samadhi (1997).
1999-2001
Used on their fourth album, The Distance to Here (1999).
2003-2005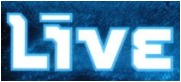 Used on their sixth album, Birds of Prey (2003).
Ad blocker interference detected!
Wikia is a free-to-use site that makes money from advertising. We have a modified experience for viewers using ad blockers

Wikia is not accessible if you've made further modifications. Remove the custom ad blocker rule(s) and the page will load as expected.