2010 –
Linnaeus University, or Linnéuniversitetet in Swedish, was created on January 1, 2010, through the merger on Växjö University and Kalmar University College.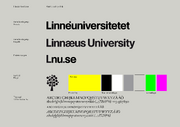 The merger had several years in the making. The university is named after Swedish botanist Carl Linnaeus. The visual identity was presented to the public on April 2, 2009. It was created by Stockholm Design Lab.
The identity has several graphical elements; a Swedish wordmark, an English wordmark, a symbol and a more seldom used wordmark for the website lnu.se. The wordmarks can be used by themselves and in a number of approved combinations with the symbol. The wordmarks stand out by changing the accent mark over the é in the Swedish wordmark to a dot, and using the leter æ in the English wordmark. The symbol is stylized tree, based on an illustration in early book by Linnaeus.