????-1999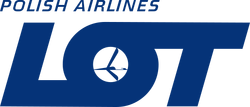 1999-2013
On August 14, 1999, LOT Polish Airlines was rebranded with a new corporate design which includes a new logo designed by Lila Design.
2013-present
On December 30, 2013, LOT Polish Airlines introduced a new logo which consists of the word "LOT" which does not feature the bird symbol, but now the letter "O" is broken into some sharing pairs with the letter "L" and the letter "T". The new logo was created by Sylwia Frommer.
Ad blocker interference detected!
Wikia is a free-to-use site that makes money from advertising. We have a modified experience for viewers using ad blockers

Wikia is not accessible if you've made further modifications. Remove the custom ad blocker rule(s) and the page will load as expected.