Indi Commandos Kerala/Indi Commandos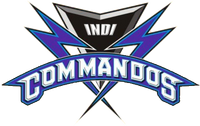 The name Indi Commandos Kerala was announced on February 26, 2013. Soon after, the Kerala legend was dropped.
Kochi Tuskers Kerala
2010-2011
After some controversy over that, the club decided that they would not use that name. Later, the name Kochi Tuskers Kerala was unveiled, along with a new logo. The Kochi Tuskers were dropped after one season.