1970–1977
1977–1984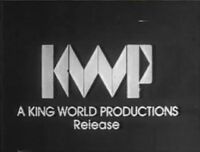 1984–1990
In-Credit Versions
1990–1999
Although originally ended in 1998, shows like Wheel of Fortune, Jeopardy!, Hollywood Squares, and the Oprah Winfrey Show continued to use this until 1999.
1998/1999–2007
2006–2007
The KingWorld logo was redesigned in 1999, with the three stripes replaced with a single stroke of paint and a new typeface. Although KingWorld is no longer operating, King World Productions, Inc. continues to be incorporated within CBS Corporation.
On August 20, 2007, King World Productions merged with CBS Paramount Domestic Television to form CBS Television Distribution.
Video
Ad blocker interference detected!
Wikia is a free-to-use site that makes money from advertising. We have a modified experience for viewers using ad blockers

Wikia is not accessible if you've made further modifications. Remove the custom ad blocker rule(s) and the page will load as expected.