1986-1999

SVG images of these logos are needed, either because these images are not transparent or are of bad quality. You can help Logopedia by uploading them here.
Kids "R" Us was a chain of children's clothing stores owned by Toys "R" Us.
1999-2003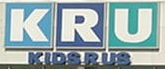 This logo was presumably used in Kids "R" Us' final years. This logo does not use a backwards "R" for some reason.