WTCN-TV
1953–195?
195?–196?
196?–1971
1971–1979
A nearly-identical logo was used during that period by then-sister station KTTV in Los Angeles, CA.
1979
On March 5, 1979, WTCN-TV switched the affiliation from independent to NBC.
1979–1983
1983–1985
The 11 used in this logo has been retained since then.
WUSA
1985–1986
The WUSA call letters lasted only one year on this station; as Gannett would move the calls to the former WDVM-TV in Washington, D.C. on July 4, 1986.
KARE
1986
1986–1990
1990–1993
1993–1996
1996–1998
1998–present
Video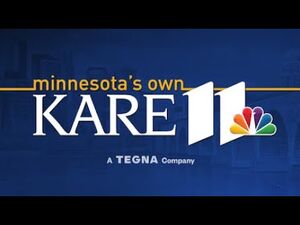 TV stations in Minneapolis-St. Paul