"Radio Panamericana" redirects here. For the Peruvian radio station, see Radio Panamericana (Peru).
Contents

1944-1965
1965-2013
2013-present
Rádio Panamericana
1944-1965
Jovem Pan was established in May 3, 1944 by Julio Cosi and Oduvaldo Viana as "Rádio Panamericana". During this period, Panamericana used several wordmarks in newspapers ads. Most common use of wordmark are in Erbar typeface or in various serifed font-families. The radio was purchased by Paulo Machado de Carvalho, owner of Emissoras Unidas, in 1945.
Jovem Pan
1965-2013
The radio was renominated as "Jovem Pan" in 1965. The new name are influenced by the Portuguese word "jovem" (in English, young), used by various nomenclatures, like as in "jovem guarda".
2013-present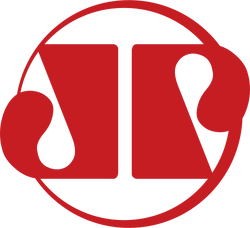 In 2013, Jovem Pan changed the design of the logo to a more modern version.
Ad blocker interference detected!
Wikia is a free-to-use site that makes money from advertising. We have a modified experience for viewers using ad blockers

Wikia is not accessible if you've made further modifications. Remove the custom ad blocker rule(s) and the page will load as expected.