1931-2016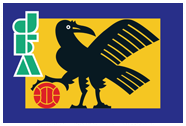 The JFA "three-legged crow" (Yatagarasu) logo adopted in 1931 is a composite by Jitsuzo Hinago of ideas presented by Tairei Uchino and other JFA founding members. According to the Chinese classics, a crow lives inside the sun, and it is said that this is what led Uchino - who was a Chinese classics scholar - to think of this three-legged crow design.
The alternate variant round badge was present on the uniforms between 1988 and 1991.
2016-present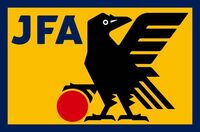 An SVG version of this logo is recommended but not required. You can help Logopedia by uploading it here.