2001-2010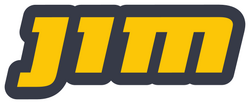 The "JIM" name it's because of Jong, Interactief en Meer (Young, Interactive and More).
2010-2014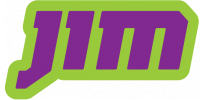 2014-2015
In 2015 the logo changed to black.
Op 15 september 2015 maakte Medialaan bekend dat JIM zijn uitzendingen gaat staken op 18 december 2015. Het vrijgekomen kanaal wordt vanaf 19 december 2015 ingevuld door een nieuwe kinderzender die zich voornamelijk richt op jongens tussen 8 en 12 jaar (Kadet).
In September 15th, 2015, Medialaan announced that the channel will cease transmissions on December 19, 2015, being replaced by Kadet, a new children's TV channel.