Monaco/MonoBook
2006–2009
This is the original logo, first made in 2006.
2009
The logo was updated two times in February 23 and 25, 2009.
2009-present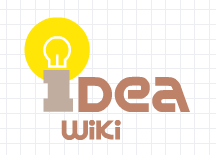 Deathgleaner commented "[c]leaner economical." This logo had to be retired because of Wikia's new skin, which forces Wikis to have a wordmark's maximum size two hundred fifty pixels wide, sixty-five pixels tall (250x65 pixels). Used from July 2010.
Wikia/Oasis
2014-present
When Wikia implemented a new skin across its site, the Idea Wiki needed a new logo.
On April 15, 2014, a new wordmark was introduced.