2005-2006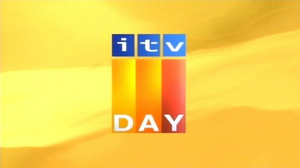 ITV Day was launched on 11 April 2005, as a strand used on ITV1 for daytime programming. The idents feature people doing various everyday tasks and appear warm due to the choice of colours, and were created by Bruce Dunlop Associates. The strand closed on 15 January 2006.
Ad blocker interference detected!
Wikia is a free-to-use site that makes money from advertising. We have a modified experience for viewers using ad blockers

Wikia is not accessible if you've made further modifications. Remove the custom ad blocker rule(s) and the page will load as expected.