Contents

iPhone OS 1.0 (2007–2010)
iPhone OS 2.0 (2008–2011)
iPhone OS 3.0 (2009–2012)
iPhone OS 3.1 (2009–2012)
iPhone OS 3.2 for iPad (2010–2012)
iOS 4 & 4.1 (2010–2013)
iOS 4.2 (2010–2013)
 
iOS 4.3 (2011–2013)
iOS 5 (2011–2014)
iOS 5.1 (2012–2014)
iOS 6 (2012–2015)
iOS 7 (2013–2016)
iOS 7.1 (2014–2016)
iOS 8 (2014–2017)
 
iOS 8.1 (2014–2017)
iOS 9 (2015–present)
iOS 9.1 (2015–present)
iOS 9.2 (2015–present)
iOS 9.3 (2016–present)
iOS 10 (2016–present)
iOS 11 (2017–present)
Logos by version
iPhone OS
iPhone OS 1.0 (2007–2008)
iPhone OS 2.0 (2008–2009)
iPhone OS 3.0 (2009–2010)
iPhone OS 3.1 (2009–2010)
iPhone OS 3.2 for iPad (2010)
iOS
iOS 4 & 4.1 (2010–2011)
In 2010, Apple renamed iPhone OS to iOS as the iPod Touch and iPad also supported the software. This first started when iOS 4 was released.
iOS 4.2 (2010–2011)
iOS 4.3 (2011)
iOS 5 (2011–2012)
iOS 5.1 (2012)
iOS 6 (2012–2014)
Before iOS 7 came out, iOS 6 was the last version that uses Steve Jobs' theme after he died. Support ended in 2015 after the last devices that shipped with iOS 6, (the iPhone 5, iPad 4th Generation and iPod Touch 4) did not recieve iOS 11.
iOS 7 (2013–2014)
In September 2013, Apple released iOS 7 with an all new design, and new features such as the control center, revamped app switcher, and more to make iOS more enjoyable and user-friendly. 
iOS 7.1 (2014)
iOS 8 (2014–2015)
iOS 8.1 (2014–2015)
iOS 9 (2015–2016)
iOS 9.1 (2015–2016)
iOS 9.2 (2015–2016)
iOS 9.3 (2016)
iOS 10 (2016–2017)
iOS 11 (2017–2018)
iOS 12 (2018-present)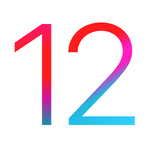 Horizontal logos
iPhone OS 3.x (2009-2010)
iOS 4 (2010-2011)
iOS 5 (2011-2012)
iOS 6 (2012-2014)
iOS 7 (2013-2014)
iOS 8 (2014-2015)
iOS 9 (2015-2016)
iOS 10 (2016-2017)
iOS 11 (2017-2018)
iOS 12 (2018 - present)