Hungry Jack's is the Australian division of Burger King.  The difference in the name is due to copyright issues with regards to an Australian burger restaurant that called itself "Burger King."  Since the company was owned by Pillsbury, the chain adopted the name of the Hungry Jack brand of biscuits which was owned by Pillsbury (Hungry Jack is, however, now a brand of The J.M. Smucker Company).
1971–1994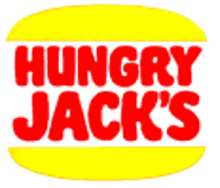 A SVG version of this logo is recommended but not required. You can help Logopedia by uploading it here.

As of 2013, this logo has been replaced by the 1994 logo in most older locations.
1994–present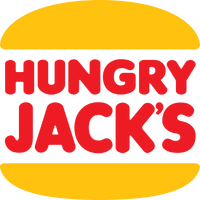 Unlike Burger King, Hungry Jack's did not change their logo in 1999 and the 1994 logo remained in use.
See also