Hot Wheels® is the brand name of a line of miniature toy automotive vehicles in varying scales of actual size (predominantly racing cars), as well as modular racetrack sets and other accessories, manufactured since 1968 by Mattel. The miniatures are often licensed reproductions of actual production cars from both the mass-market and racing worlds, and are among the company's best-selling and best-known products.
Contents

1968–1969
1969–1973
1973–1990
1990–2000
 
2000–2004
2004–2010
2010–present
2014–present
1968-1969
1969–1970

This version of the logo saw its flame being simplified, Mattel's original corporate logo increasing in size and the tagline "Fastest Metal Cars in the World!" being added to the logo even though it would be removed from the logo in its later versions.
1970–1973

For the product's third year, the logo was updated. The color red was darkened, the Mattel logo was updated to reflect its current version and the tagline was removed.
1973–1990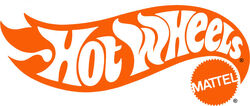 This is the only orange version of the logo.
1990–2000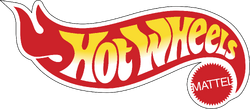 This is the first and only version to feature a thin black outline of the overall logo. The letters "Hot Wheels" appear in two colors, rather than plain white, for the first time.
2000–2004

The biggest change in this version was the Mattel logo being eliminated altogether. The logo itself was also given a three-dimensional look.
2004–2010

2010–present
2010–2014

The logo's shape more resembles that of the original.
2014–present
External links