1957–1958
1958–1959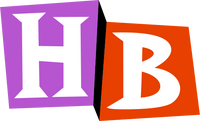 1959–1961
This article or section lacks a former logo at the moment. You can help Logopedia by uploading it here.
1961

1961–1966

1966–1971

1971–1974

NOTE: First appeared on screen in 1966.
1973–1977
1977–1987

1979–1992
The Swirling Star logo, designed by Art Scott.
1988–2002

2002–present

Hanna-Barbera was absorbed into Warner Bros., though a new script logo (based on the 1961 logo) is being used to promote H-B shows and characters. This logo is only used on merchandise.
Other