1996-2002
From their albums: Proud Like a God (1997) and Don't Give Me Names (2000).
2003-2006, 2009-2010

This logo was used in albums: Walking on a Thin Line (2003), Planet of the Apes (2004) and The Best & The Lost (T)apes (2006).

Bat from logo. This animal is symbol of Guano Apes.
2011-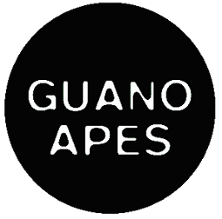 Logo from album Bel Air (2011).
Ad blocker interference detected!
Wikia is a free-to-use site that makes money from advertising. We have a modified experience for viewers using ad blockers

Wikia is not accessible if you've made further modifications. Remove the custom ad blocker rule(s) and the page will load as expected.