1950–1998
This article or section lacks a former logo at the moment. You can help Logopedia by uploading it here.
1998–2014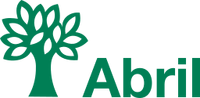 Grupo Abril is established in 1950, when Victor Civita founded the Editora Abril. Today, Grupo Abril is the biggest books and magazine publisher in Latin America.
2014–present

Ad blocker interference detected!
Wikia is a free-to-use site that makes money from advertising. We have a modified experience for viewers using ad blockers

Wikia is not accessible if you've made further modifications. Remove the custom ad blocker rule(s) and the page will load as expected.