1993-2009
Great Value was sometimes abbreviated to "GV" before 2009. Its former slogan was "When Quality Counts". Most of the labels on its packaging, along the logo itself, used serif fonts. Note that the two words are not always proportionally identical to the ones in this logo.
2009-Present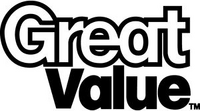 On March 16, 2009, Walmart relaunched the brand with more than 80 new products, several formula changes and the new logo. All packages are predominantly white.
Ad blocker interference detected!
Wikia is a free-to-use site that makes money from advertising. We have a modified experience for viewers using ad blockers

Wikia is not accessible if you've made further modifications. Remove the custom ad blocker rule(s) and the page will load as expected.