Before independence
Prior to privatisation, Network SouthEast was split into eleven separate companies. One of which was named Great Eastern.
1994 - 1995

1996 - 1997

First Great Eastern
1997 - 1999

In 1997, FirstGroup rebranded Great Eastern to bring it in line with its then new corporate look.
1999 - 2004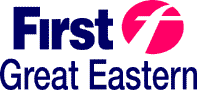 In 1999 the corporate look was revised to match FirstGroup's bus operations. In 2004, the Great Eastern franchise was merged with the InterCity Great Eastern franchise and the West Anglia half of the West Anglia Great Northern franchise to become the Greater Anglia franchise.
Ad blocker interference detected!
Wikia is a free-to-use site that makes money from advertising. We have a modified experience for viewers using ad blockers

Wikia is not accessible if you've made further modifications. Remove the custom ad blocker rule(s) and the page will load as expected.