January-July 2012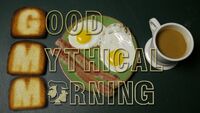 Used during Season 1.
2012-2017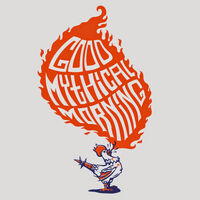 This logo used since Season 2-11 was made by Kendrick Kidd.
2017-present
This logo was created by Greg Christman and Alex Liebold
The new Mug (with New logo) was unveiled for the first time of The Tonight Show Starring Jimmy Fallon on July 26th, 2017
Greg told about this Logo in Dribbble "About 6 months ago (in January 2017) I worked with my best bud Alex Liebold on a logo project for Rhett and Link's show Good Mythical Morning. The YouTube channel has 12.5 million followers so it was no big deal. Nope. No anxiety attacks on this one.
Anyways, it was introduced on The Tonight Show with Jimmy Fallon last night so I can finally show it off. Peep that attachment."
However, this logo has been in use since season 12 onwards.
Cr:
Greg Christman Dribbble account