1973-2001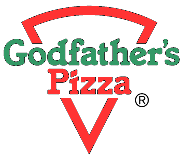 The first and basic logo. This logo takes on the shape of the pizza in red lines with the name through it, Godfather's in green and Pizza in red.
2001-Present
In 2001, Godfather's Pizza updated their logo for the first time in 28 years. It uses the same font as the previous logo, but removed the pizza shape and re-arranged the wording going across from left-to-right as opposed to top-to-bottom like the previous logo, and an illustration was introduced and placed on the left involving a hand of the Godfather carrying a set of pizza.
Ad blocker interference detected!
Wikia is a free-to-use site that makes money from advertising. We have a modified experience for viewers using ad blockers

Wikia is not accessible if you've made further modifications. Remove the custom ad blocker rule(s) and the page will load as expected.