1997–2016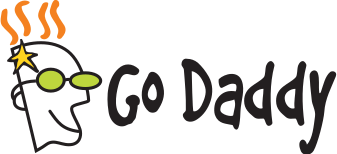 As of 2016, this is now being used as a secondary logo.
2016–2018

On April 10, 2016, GoDaddy received its first major overhaul since its inception in 1997. While the icon changed only a bit, the font has been changed, and is now used across its family of services. In addition, a new tagline, "Go You. GoDaddy" was also introduced.
2018–present

For the first time in 21 years, the daddy in the logo does not appear in the logo for the first time.