1978–2003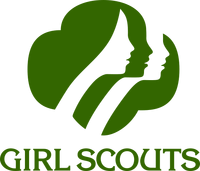 The Saul Bass-designed logo for Girl Scout was first presented on October 25, 1978 to the Girl Scout convention in Denver. It has become a textbook example of the use of whitespace in graphic design. It combines the trefoil symbol, which had been used by the organization for decades, with the silhouettes of three girls. The font is called Korinna Bold.
2003–2009

2009–present
An SVG version of this logo is recommended but not required. You can help Logopedia by uploading it here.
This logo placed 7th in the 2009 Brand New Awards.