TheGermanyNews.net
2003-2004

As part of a network of News.Net sites GermanyNews.net was originated as TheGermanyNews.net as the domain name could not be acquired.
GermanyNews.net
2004-2006
This article or section lacks a former logo at the moment. You can help Logopedia by uploading it here.
2006-2012

Following the acquisition of the GermanyNews.net domain thewebsite was switched to that domain. The logo was changed to reflect the switch.
2012-present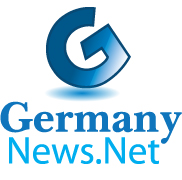 A new logo for GermanyNews.net was adopted when a redesign of the site was implemented in 2012.