GMA News TV (simply known as GNTV, formerly known as News TV) is a secondary television network owned by GMA Network subsidiaries of Citynet Network Marketing and Productions replacing for its frequency once used by the previously national television network "Q" broadcast from February 28, 2011 to present. GNTV is being broadcast terrestrially and thru digital terrestrial television through DZOE-TV (Channel 11) and among all-stations. Featured imported news, public affairs, dramas, entertainment, sports lifestyle-oriented programming.
This station studios are located at 22/F Strata 2000 Building F. Ortigas Jr. Road (formerly Emerald Avenue), Ortigas Center, Pasig City and GMA Network Center, EDSA corner Timog Avenue, Diliman, Quezon City while transmitter is located at GMA Tower of Power Compound along Barangay Culiat, Tandang Sora, Quezon City.
2011–present
2011–2013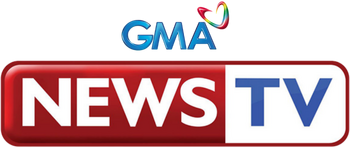 The official logo of Q was rebranded as GMA News TV. It is launched on February 28, 2011.
2014–present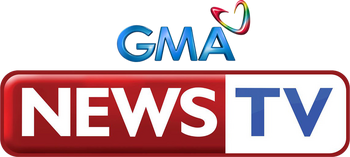 Other
Analog and Digital TV stations in Metro/Mega Manila, Philippines
Analog
VHF Stations
DWWX-TV 2 (ABS-CBN) | DWGT-TV 4 (PTV) | DWET-TV 5 (TV5) | DZBB-TV 7 (GMA) | DZKB-TV 9 (RPN/CNN Philippines) | DWDB-TV 11 (GMA News TV) | DZTV-TV 13 (IBC)
---
UHF stations
DWCP-TV 21 (SBN/ETC) | DWAC-TV 23 (S+A) | DZEC-TV 25 (Net 25) | DZRJ-TV 29 (RJTV/2nd Avenue) | DWKC-TV 31 (BEAM) | DWAO-TV 37 (UNTV) | DWBP-TV 39 (SMNI) | DWNB-TV 41 (AksyonTV) | DWVN-TV 45 (3ABN/Hope Channel Philippines) | DZCE-TV 48 (INC TV)
---
Digital television stations
19 (CNN Philippines) | 22 (Shop TV, ETC) | 26 (IBC) | 27 (GMA, GMA News TV) | 30 (2nd Avenue) | 32 (Shop TV, O Shopping, TV Shop Philippines, Shop Japan Philippines, Pilipinas HD, TeleVShop, Island Living Channel, Inquirer 990 Television, PinoyHowToTV, EGG HD) | 33 (Light Network) | 35 (TBD) | 38 (UNTV, ADDTV) | 40 (SMNI) | 42 (PTV, Salaam TV) | 43 (ABS-CBN, S+A, Cine Mo!, Yey!, Knowledge Channel, DZMM TeleRadyo, KBO) | 44 (Hope Channel Philippines, 3ABN, Hope Channel International, GNN) | 49 (Net 25,INC TV) | 51 (TV5, AksyonTV)
---
Inactive stations
DWDB-TV 27 (Citynet Television) | DZOZ-TV 33 (Light Network) | DWXI-TV 35 (DBS) | DWBM-TV 43 (MBN) | DWDZ-TV 47 (TV5) | DZCE-TV 49 (INC TV) | DWBC-TV 68 (Intervision 68)
---
Defunct stations
DZXL-TV 4/9 (ABS-CBN) | DZRH-TV 11 (MBC) | DZRU-TV 41 (MTV Philippines)