1971-1987
The first logo for the "Monster Cereal" Franken-Berry.
A pre-sweetened strawberry-flavored corn-based cereal with marshmallow pieces, it was promoted in animated-cartoon commercials where "Franken-Berry's" voice was provided in imitation of Boris Karloff.
The mascot himself is modeled on the Frankenstein "monster" as Karloff had acted him out in the 1930s.
1987-2006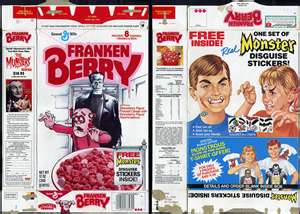 The familiar "First and Last Letter" format used on Monster Cereals from this time period.
2006-present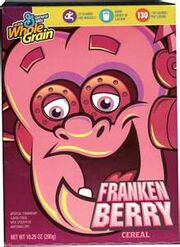 The current Franken-Berry logo.
Ad blocker interference detected!
Wikia is a free-to-use site that makes money from advertising. We have a modified experience for viewers using ad blockers

Wikia is not accessible if you've made further modifications. Remove the custom ad blocker rule(s) and the page will load as expected.