1971-1987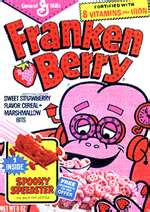 The first logo for the "Monster Cereal" Franken-Berry.
A pre-sweetened strawberry-flavored corn-based cereal with marshmallow pieces, it was promoted in animated-cartoon commercials where "Franken-Berry's" voice was provided in imitation of Boris Karloff.
The mascot himself is modeled on the Frankenstein "monster" as Karloff had acted him out in the 1930s.
1987-2006
2006-present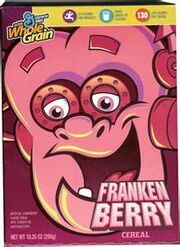 The current Franken-Berry logo.