Originally produced live for the Fox Broadcasting Company by Fox Television Stations and anchored by a newscaster from either New York's WNYW or Washington DC's WTTG between 1994 and 1996, but currently produced since 1996 by the Fox News Channel and anchored by an FNC personnel, a Fox News Special Report contains interruption of the regularly scheduled programming on the Fox network and/or its stations, sometimes additionally on selected MyNetworkTV stations (mostly owned by 21st Century Fox), and sometimes on the Fox Business Network on an overflow basis anytime with breaking news covered in the United States of America and the world. An FNC personnel ends a live special coverage for Fox and MyNetworkTV by reminding viewers to keep tuned in to a local Fox or MyNetworkTV station during a local newscast and FNC on a service provider for continuing breaking news coverage.
2002-2009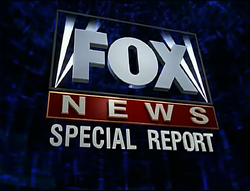 2009-present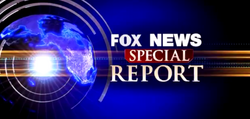 Ad blocker interference detected!
Wikia is a free-to-use site that makes money from advertising. We have a modified experience for viewers using ad blockers

Wikia is not accessible if you've made further modifications. Remove the custom ad blocker rule(s) and the page will load as expected.