2010-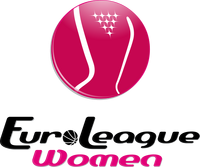 This logo for EuroLeague Women was presented in July 2010. The symbol includes many things that are associated with the league.
A simplified shape of the trophy can be seen.
The circle symbolises tha basketball.
The star pattern symbolises the net.
The two lines symbolise the shape of the female players.
Ad blocker interference detected!
Wikia is a free-to-use site that makes money from advertising. We have a modified experience for viewers using ad blockers

Wikia is not accessible if you've made further modifications. Remove the custom ad blocker rule(s) and the page will load as expected.