2010-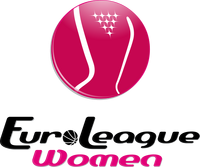 This logo for EuroLeague Women was presented in July 2010. The symbol includes many things that are associated with the league.
A simplified shape of the trophy can be seen.
The circle symbolises tha basketball.
The star pattern symbolises the net.
The two lines symbolise the shape of the female players.