Endemol is a former Dutch-based media company that produced and distributed multiplatform entertainment content. The company annually produced more than 15,000 hours of programming across scripted and non-scripted genres, including drama, reality TV, comedy, game shows, entertainment, factual and children's programming.
1994–2001
Endemol was founded in 1994 by a merger of television production companies owned by Joop van den Ende and John de Mol, the name deriving from the combination of their surnames.
2001–2015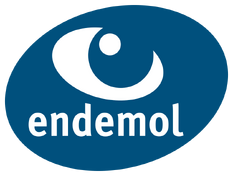 The logo was changed in 2001, this time the eye and the "endemol" wordmark, written in lowercase text, was surrounded by a blue tilted oval. Endemol was merged into Endemol Shine Group in 2015.