2012–2013
A SVG version of this logo is recommended but not required. You can help Logopedia by uploading it here.
On October 8, 2012, Encore Play was launched in line with Starz Play, and MoviePlex Play.
2013–2016

On December 2, 2013, Encore Play modified its logo by recoloring the yellow play button blue and replacing the 2005 "Encore" wordmark with the 2013 "Encore" wordmark. It was defunct on 2016 even though Starz Encore has still have a On-demand service still on cable.
App Icon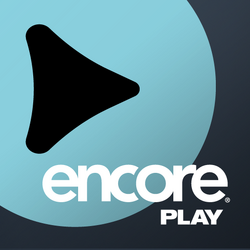 Ad blocker interference detected!
Wikia is a free-to-use site that makes money from advertising. We have a modified experience for viewers using ad blockers

Wikia is not accessible if you've made further modifications. Remove the custom ad blocker rule(s) and the page will load as expected.