Emergency Broadcast System
1990?-????
This kind of screen is commonly used for mocks
Local Acess Alert
1992,2002,2009-????
This (the white screen) was only used 2 times on KCAU-TV (in 1992,for a tornado warning) and Nickelodeon (June 2002,for a tropical storm watch). This "odd" Local Warning System consisted of a weird/disturbing "scrolling" noise and lots of people were scared of it at the time.
The Black Screen (much like it's relative,the Emergency Alert System) would have a black screen with the words "LOCAL ACESS ALERT" in all caps and in the VCR OSD Mono font.This was later replaced by the EAS.
Emergency Alert System
circa 1995-1997
this was originally recordedfor KBTC-TV 28 in Tacoma.This was a tape for only broadcast use.
1997?,2009?
Only used for KHOU-TV Houston,Texas
1998-2010
In 1999,Comast made a green screen EAS. If it was a test,it would be green. If it was a warning,it would be red.It was discontinued in 2010 and replaced with the black screen EAS.The ticker was first seen in 1998 with the bald eagle picture.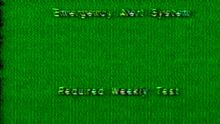 1998?
2001
This was only seen on WBNX,a CW TV station in Ohio.
2004?-2009?
In the early-late 2000's,lot's of people saw blue screens with red/green tickers at the bottom.This was seen again in 2010,but without the word's shadows,the screen was teal blue,and the ticker was green.There is another screen like this if you have Xfinity X1,but with a few differences.You can make a screen like this in Windows Movie Maker.The first EAS YouTube video was in 2006.
2005?-present
The well-known black screen EAS is the most popular kind of EAS screen.According to a YouTuber Craig Baker,this screen first started being used by Mediacom in 2005.Broadcast Station or Cable System tests were used from 2007-2011. Sometimes an inverted EAS would be seen in 2008 and 2011.The first black-screen EAS video on YouTube was in 2007.The font for this screen is a smooth version of
"VCR OSD Mono".
2007?-2010?
2010?-present
This can be seen commonly on black box digital Comast/Xfinity boxes.
2015-present
This can only be seen on X1.This looks just like the 2004 screen but with a few differences:
.The screen is black,not blue
.The screen says "EMERGENCY ALERT" and looks like it was made in Windows Movie Maker.