2000–2010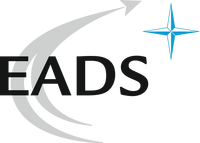 EADS is a European aerospace corporation. It was formed in 2000 through the merger of France's Aérospatiale-Matra, Germany's DaimlerChrysler Aerospace (DASA), and Spain's Construcciones Aeronáuticas (CASA).
The identity for the merged company was presented in 1999 and includes a "swosh" from Aérospatiale's old logo and a star from DASA. CASA joined the company afterwards, but wasn't included in the logo.[1]
2010–present
On September 17, 2010, EADS unveiled a new identity, which finally drops the old DASA and Aérospatiale-Matra symbols.
The divisions also got new or updated logos in a common style. Each division's logo has a grey sphere with a symbol on it, with the names written in the same fonts. The logos for Airbus, Eurocopter and Astrium were created by adapting the existing logos, while the logo for Cassidian (formerly known as EADS Defence & Security) got a completly new logo.