This is the article about Disney's DuckTales merchandising, since 1985. For TV series 1987-1990, see DuckTales.
1985-1986
First DuckTales logo in 1985.
1986-present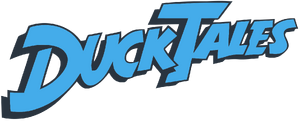 Second and first official DuckTales logo since 1986. This official logo appear for the first time, in DuckTales products in 1986, and another gadgets of TV series products in July 1987, in comic books on August 1987.
Ad blocker interference detected!
Wikia is a free-to-use site that makes money from advertising. We have a modified experience for viewers using ad blockers

Wikia is not accessible if you've made further modifications. Remove the custom ad blocker rule(s) and the page will load as expected.