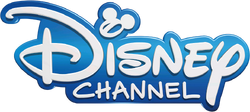 This is the description page for the idents of Disney Channel International from 18 January 2014 to present day.
Ident Summary
On 18 January 2014, the German version of Disney Channel became available on free-to-air terrestrial television. The channel also launched a new, overhauled logo design, which focused on the "Disney" script with the Mickey Mouse head shape on the dot above the i and the "CHANNEL" text below the script. The US network later adopted the logo on 27 May 2014.
The idents and graphics are designed through a joint venture between the design agencies Royale and BDA Creative Munich. The new idents feature everyday scenes of children around the world with the Disney Channel logo drawing itself on the screen. The series of bumpers that featured Disney celebrities continue to be used by the network, this time with the current logo.
The 2014 logo was later adopted by several European networks, including the United Kingdom, France, Italy, Spain, and Portugal beginning on 1 July 2014. The Asian version of the channel as well in Latin America , the Middle East, Australia, and New Zealand received the logo and idents on 1 August 2014..
Ident Gallery
Germany Idents
External Links