Disney-MGM Studios
1989–2008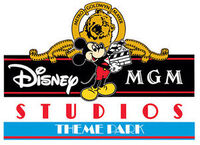 In 1989, Disney-MGM Studios grand opening. Disney his made an agreement with MGM. In 1985, Disney and Metro-Goldwyn-Mayer entered into a licensing contract that gave Disney worldwide rights to use the MGM brand and logo for what would become Disney-MGM Studios, which included working production facilities for movies and television shows and a satellite animation studio, which began operation prior to the park's debut. On May 1, 1989, the theme park opened adjacent to the production facilities, with MGM's only affiliation being the original licensing agreement that allowed Disney to use MGM's name and lion logo in marketing, and separate contracts that allowed specific MGM content to be used in The Great Movie Ride.
An SVG version of this logo is recommended but not required. You can help Logopedia by uploading it here.
Disney's Hollywood Studios
2008–present
In 2008, Disney changed the current park's name to Disney's Hollywood Studios, therefore incorporating a new logo. Disney's Hollywood Studios his past name is Disney-MGM Studios, or The Disney Studios.