This article is a candidate for move.

This article should be moved for the following reason: Article should be renamed back to Dish Network to prevent confusion with other brands with the same name.. Remember to check what links here and the page history before moving. If you disagree with move, please explain why on the candidates for move talk page.
1996-2000

Dish Network was originally introduced by EchoStar (then a different company) on March 4, 1996. While the logo's basis has been the same throughout its lifespan, its logo had at least three modifications, two of the later ones which became the more prominent basis for its recent logo.
2000-present
2000–2005
In the year 2000, the orbits surrounding the wordmark were removed, and whole logo became bold. This would since then become the foundation for the next two logos below.
2005–2012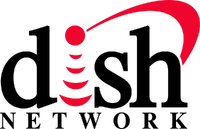 Starting August 16, 2005, the Dish logo was slightly updated with the centimeter-long tail through the dot of the "i" cut off and the bottom portion completely dropped from the logo. This update was originally meant to reflect a new "Better TV for All" initiative[1] Dish has been doing for the next 6 years from this logo's introduction. Since then, the logo sometimes appeared without the "Network" part of the logo, before the short name became the new standard name of the service.
2012–present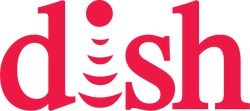 To coincide with the rise of its new family of receivers, dubbed the Hopper and Joey respectively, Dish refreshed its identity effective February 1, 2012. The orbit on the top and "Network" were both removed completely and its logo went completely red to retain its color scheme.
References
Ad blocker interference detected!
Wikia is a free-to-use site that makes money from advertising. We have a modified experience for viewers using ad blockers

Wikia is not accessible if you've made further modifications. Remove the custom ad blocker rule(s) and the page will load as expected.