Discovery Civilization Channel
2001–2010
Discovery Science
2010–2011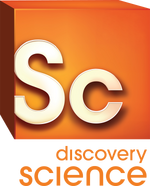 2011–present
In 2011, Discovery Science once again updated their logo to match Discovery Communications' U.S. channel Science.
This page does not cite any sources. Please help by adding reliable citations to unsourced material. Any material that is unsourced or poorly sourced may be marked as a false edit and removed.
2017 (Tentative)
This article or section does not include the upcoming logo at the moment. You can help Logopedia by uploading it here.