Contents

1985–1990
1990–1993
1993–2004
2004–2008
 
2008–2011
2011–2015
2015–2016
2016–present
Hughes Electronics
1985–1990
DirecTV was founded in 1985 as Hughes Electronics.
DirecTV
1990–1993
In 1990, Hughes Electronics was renamed as DirecTV.
1993–2015
1993-2004
This logo appeared at the company's headquarters in El Segundo, California before July 2013, when it was replaced by the 2011 logo, and eventually with the latest logo since Dec. 2015, which is the inverted AT&T globe, albeit without the wordmark. Since then, this logo has gone through several changes.
2004–2011
In 2004, the edges of the "D" symbol became rounded, and both sides of it were colored different shades of blue. The wordmark's font was also changed. This is still used on some remotes.
2008–2011
In 2008, the logo was given a three-dimensional effect. However, it did not completely replace the previous two-dimensional logo until 2010.
2011–2015
In 2011, the logo became more three-dimensional than before, and the wordmark's typeface was changed again to be less spaced out. Also, the width of the inside of the "D" symbol was reduced. As of 2015, this logo is being used as a secondary logo and still used in Latin America and is used on some receivers.
2015–2016
After AT&T completed its acquisition of DirecTV in 2015, the logo was changed by removing the "D" symbol altogether, leaving only the wordmark from the previous logo.
2016–present
On December 3, 2015, the logo was updated by placing the newly-updated and inverted AT&T logo next to the DirecTV wordmark, this time colored black. The new logo debuted on January 1, 2016, only a few months after AT&T first purchased DirecTV.
See also
External links
Fixed-line telecommunications:
---
---
---
---
---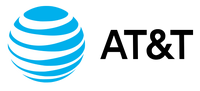 Ad blocker interference detected!
Wikia is a free-to-use site that makes money from advertising. We have a modified experience for viewers using ad blockers

Wikia is not accessible if you've made further modifications. Remove the custom ad blocker rule(s) and the page will load as expected.